Profil Lengkap Peserta Miss Global 2022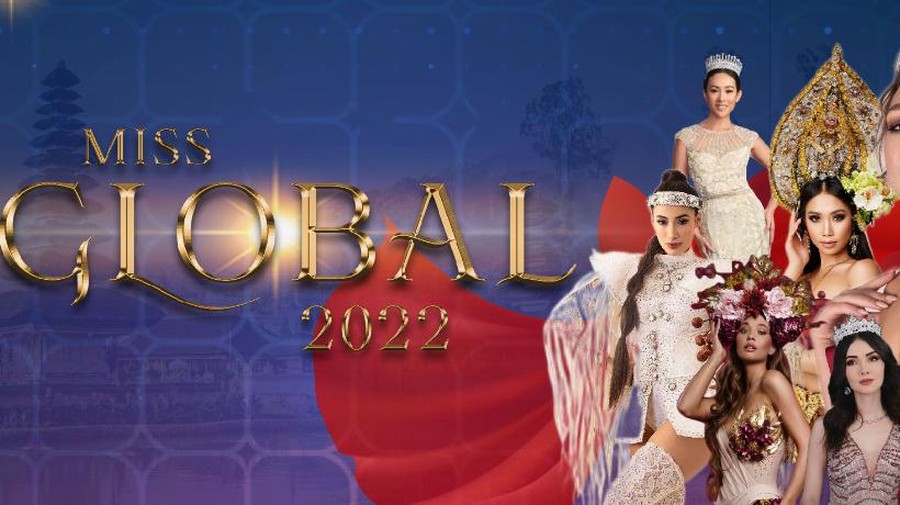 Jakarta, Insertlive
-
Ajang Miss Global akhirnya digelar setelah selama dua tahun tertunda.
Sebelum Coronation Night, para peserta akan mengikuti masa karantina yang dimulai sejak 31 Mei hingga 7 Juni 2022.
Kemudian pada 8 Juni 2022, para kontestan akan menunjukkan penampilan terbaiknya di Prelimenary Competition yang akan diselenggarakan di TS Suites, Seminyak, Bali.
Siapa saja peserta yang terlibat? Berikut profil lengkapnya:
Nama: Estefânia Neves
Negara: Angola
Umur: 25
Hobi: Futsal, dancing, gym
Pekerjaan: work on my on project
Nama: Brooke Rankin
Negara: Australia
Umur: 24
Hobi: dancer, snowboarding, pilates, learning Key Word Sign.
Pekerjaan: Student Speech Pathologist, Cardiac Technician and model
Nama: Sofie Schuch
Negara: Austria
Umur: 27
Hobi: dancing, reading, writing
Pekerjaan: model in Berlin
Nama: Roya Shirzadloo
Negara: Azerbaijan
Umur: 32
Hobi: art sports travel, music
Pekerjaan: Businesses, currently studying neuroscience
Nama: Lauralyn Veermersch
Negara: Belgia
Umur:
Hobi: menunggang kuda
Pekerjaan:
Nama: Amélé
Negara: Benin
Umur: 24
Hobi: travel, workout, work on my Business project, reading
Pekerjaan: agen komersil
Nama: Gabriela Velikova
Negara: Bulgaria
Umur: 24
Hobi: exploring the world, learning about new cultures and their traditions, psychology, philosophy, etiquette and modern elegance, yoga
Pekerjaan: psychologist and fashion entrepreneur- creating my own brand
Nama: Maria
Negara: Belarus
Umur: 25
Hobi: DJing, cooking, traveling, dancing and studying
Pekerjaan: model, events accompaniment
Nama: Natasha Palachkovich
Negara: Bosnia
Umur: 27
Hobi: learning languages, reading, travelling
Pekerjaan: model
Nama: Natália
Negara: Brasil
Umur: 31
Hobi: draw and practice sports
Pekerjaan: fashion designer and model
Nama: Andrea Almeida
Negara: Cape Verde
Umur: 33
Hobi: Dance Flameco, read and to write
Pekerjaan: Events Director
Nama: Scarlett Sun
Negara: China
Umur: 23
Hobi: Singing, astrology, tarot card
Pekerjaan: playwright, producer
Nama: Jesenia Orozco
Negara: Kolombia
Umur:
Hobi: Reading, cleaning, drinking tea, skating, spending family time, horseback riding/ shopping
Litigation Paralegal/ Commercial model/actress
(Looking forward to finishing law school)
Pekerjaan:
Nama: Lili Rich
Negara: Inggris
Umur: 29
Hobi: traveling, painting, photography, martial arts, acting
Pekerjaan: Actress & model and Jeweler owner of LRich Jewels
Nama: Winta Russom
Negara: Eritrea
Umur: 28
Hobi: studying, video-editing, gym
Pekerjaan: Student, Entrepreneur
Nama: Aïda Kaufmann
Negara: Prancis
Umur: 22
Hobi: filming , editing, photography, singing, drawing, dancing, traveling, makeup and fashion
Pekerjaan: Content creator /auto entrepreneur
Nama: Sarvenaz Petroudi
Negara: Jerman
Umur: 30
Hobi: Dancing, Painting, creating recipes
Pekerjaan: Business owner, actress
Nama: Charlee Berbicks
Negara: Ghana
Umur: 28
Hobi: Traveling, photography, Horseback riding
Pekerjaan: Social Media Manager and travel content creator
Nama: Valentina Dettori
Negara: Italia
Umur: 34
Hobi: reading, gym, pilates, yoga, traveling
Pekerjaan: psychology, lashes stylist , model
Nama: Pickqueena Burrell
Negara: Jamaika
Umur: 21
Hobi: writing poems and short stories, volunteering, modelling, watching anime and staying at home
Pekerjaan: Certified Paralegal, Administrative Assistant and Sales Marketer
Nama: Marie Ogawa
Negara: Jepang
Umur: 27
Hobi: playing the piano, traveling, studying, cooking
Pekerjaan: lecturer at college, pianist, model, PhD student.
Nama: Kayleigh Hollins-
Negara: Gibraltar
Umur: 33
Hobi: keeping fit
Pekerjaan: accountant
Nama: Niki Theofilopoulou
Negara: Yunani
Umur: 33
Hobi: Traveling, sports and movies
Pekerjaan: Tennis coach, tennis referee, model, Italian teacher, working for the best basketball team in Greece at the ticketing department
Nama: Farah Fourcand
Negara: Haiti
Umur: 34
Hobi: Volunteering, Mentoring, Writing, Drawing/Painting, Cooking, Traveling
Pekerjaan: Brain Surgeon, Founder of Brain Anti-Aging Startup, Model
Nama: Sylvia To
Negara: Hungaria
Umur: 31
Hobi: gym, photomodel, reading about physiology
Pekerjaan: legal team assistant
Nama: Fanney Sandra Albertsdóttir
Negara: Islandia
Umur: 24
Hobi: All kinds of sport and outdoor activities (climbing mountains, riding bikes etc.), traveling, cooking and baking
Pekerjaan: Flight attendant, makeup artist and personal trainer
Nama: Larissa Dsouza
Negara: India
Umur: 22
Hobi: Dancing, painting, badminton, content creation, long distance running
Pekerjaan: Chartered Marketing Student, YouTuber, upcoming social media influencer, Modeling
Nama: Olivia Aten
Negara: Indonesia
Umur: 28
Hobi: traveling, singing, teaching, learning language, video editing, gym, swimming, hiking
Pekerjaan: education content creator for TikTok Indonesia & business owner
Nama: Jessica VanGaalen
Negara: Irlandia
Umur: 31
Hobi: Traveling, Singing, Crafting & Movies
Pekerjaan: Business Owner, Model & Photographer
Nama: Anar Omarova
Negara: Kazakhstan
Umur: 24
Hobi: Dancing bachata and zouk, reading & learning new languages
Pekerjaan: Marketing and social media manager, language teacher and content creator
Nama: Eleanor Musangi
Negara: Kenya
Umur: 29
Hobi: making money,fitness and wellness,reading books ,cooking and swimming
Pekerjaan: Life coach and entrepreneur in fashion and beauty
Nama: Kim Song-yi
Negara: Korea
Umur: 29
Hobi: swimming, piano
Pekerjaan: Model, business owner, teacher
Nama: Sandra Boris
Negara: Lithuania
Umur: 27
Hobi: Traveling, cooking, dancing, acting
Pekerjaan: I'am model and makeup artist
Nama: Sandra Lim
Negara: Malaysia
Umur: 21
Hobi: Sparring, kickboxing, fitness, volunteer
Pekerjaan: Model, actress, speaker, former national athlete
Nama: Andrea Medina
Negara: Meksiko
Umur: 28
Hobi: horseback ridding, yoga
Pekerjaan: philanthropist, businesswoman
Nama: Khaoula Meftah
Negara: Maroko
Umur: 25
Hobi: chess / singing / reading
Pekerjaan: kids amusement center manager
Nama: Sunaina Mahangi
Negara: Nepal
Umur: 34
Hobi: belly dancing, tai chi, doing, inspiring, self-love/belief and personal development
Pekerjaan: Flight attendant, Commercial model
Nama: Claudia Brienesse
Negara: Belanda
Umur: 24
Hobi: Traveling, fitness, modeling, reading/learning new things
Pekerjaan: Governess, studying nutrition
Nama: Stephanie Kingsley
Negara: Nigeria
Umur: 29
Hobi: Volunteering, Cooking and speaking to encourage people
Pekerjaan: Entrepreneur, Founder We Aid Frontiers Organisation. Established to create access to quality education across communities in West Africa
Nama: Lauren Imseeh
Negara: Palestina
Umur: 25
Hobi: Dancing singing playing basketball, modeling
Pekerjaan: social media influencer and an entrepreneur I establish a Palestine clothing brand for women, and another brand for accessories to teach women how to dress well and be well
Nama: Monica Lozano
Negara: Panama
Umur: 28
Hobi: Traveling
Pekerjaan: Student of psychology
Nama: Areej Chaundry
Negara: Pakistan
Umur: 25
Hobi: travelling, painting, dancing, watching movies and spending time with my pet animals
Pekerjaan: Model and Actress
Nama: Massiel Suárez
Negara: Peru
Umur: 21
Hobi: dancing, reading and acting
Pekerjaan: comunicator, international public relation, tv host and model
Nama: Shane Quintana Tormes
Negara: Filipina
Umur: 30
Hobi: Hiking, Trekking, Singing, Traveling, Reading Books, Watching Documentaries about History and Royal Monarchies and voluntary works
Pekerjaan: Events Host and Artist
Nama: Ela Apostol
Negara: Romania
Umur: 26
Hobi: make up, traveling , voluntaareng
Pekerjaan: model and student
Nama: Awa Sidibe
Negara: Senegal
Umur: 25
Hobi: dance, reading books,hiking
Pekerjaan: management student
Nama: Katarina
Negara: Serbia
Umur: 30
Hobi: singing, doing photography
Pekerjaan: bag designer and model scout agent
Nama: Mandy Tang
Negara: Singapura
Umur: 32
Hobi: golf, horse riding, cooking, baking, fitness, yoga, meditation, surfing, reading, volunteering, dance, run, reading, art , hiking
Pekerjaan: self employed business owner (business consultant for CEOs) , content creator , model
Nama: Rozelle Bester
Negara: Afrika Selatan
Umur: 26
Hobi: Hiking, rollerskating, reading, traveling, adrenaline junkie
Pekerjaan: I am a fulltime make up artist. I studies to be a teacher and I am also currently studying drama
Nama: Gisselle Villar
Negara: Spanyol
Umur: 18
Hobi: cook dessert, dance, model of photography.
Pekerjaan: student
Nama: Reni Filipova
Negara: Swiss
Umur: 34
Hobi: Dance, cooking (have my own recipes), sing karaoke, gym, yoga, meditation,
make up
Pekerjaan: Medical cosmetician and teacher for medical cosmetics
CEO and founder of
Chic&Fame
Chic&Fame Fashion
Chic&Fame Clinic
Nama: Alina Garaeva
Negara: Tatarstan Republic
Umur: 26
Hobi: Traveling, painting, scuba diving, snowboarding, toys felting .
Pekerjaan: Model, actress, manager.
Nama: Rattana Luangnan
Negara: Thailand
Umur: 22
Hobi: Makeup, photography, fishing, cooking,
Pekerjaan: Carer at aged care
Nama: Maha Dakhli
Negara: Tunisia
Umur: 35
Hobi: travel, Flying yoga, cooking, swimming
Pekerjaan: pharmacist biologist
Nama: Jessica Da silva
Negara: UAE
Umur: 27
Hobi: dance, Paint, sing
Pekerjaan: Entrepreneur, architect and model
Nama: Ashlei Watson
Negara: Uganda
Umur: 27
Hobi: Writing poetry , fashion , acting
Pekerjaan: philanthropist , Medical receptionist , poet , motivational speaker
Nama: Doan Hong Trang
Negara: Vietnam
Umur: 27
Hobi: cooking, volunteer, swim, travel
Pekerjaan: fashion business, model
Nama: Sara Burd
Negara: USA
Umur: 28
Hobi: Traveling, cooking, surfing, art, playing guitar, and reading
Pekerjaan: Model & jeweler
Nama: Tania T Aaron
Negara: Zimbabwe
Umur: 26
Hobi: traveling, watching TV, Reading and Socializing
Pekerjaan: Cabin Crew and Model
(yoa/yoa)