Lirik Lagu Stay Gold - BTS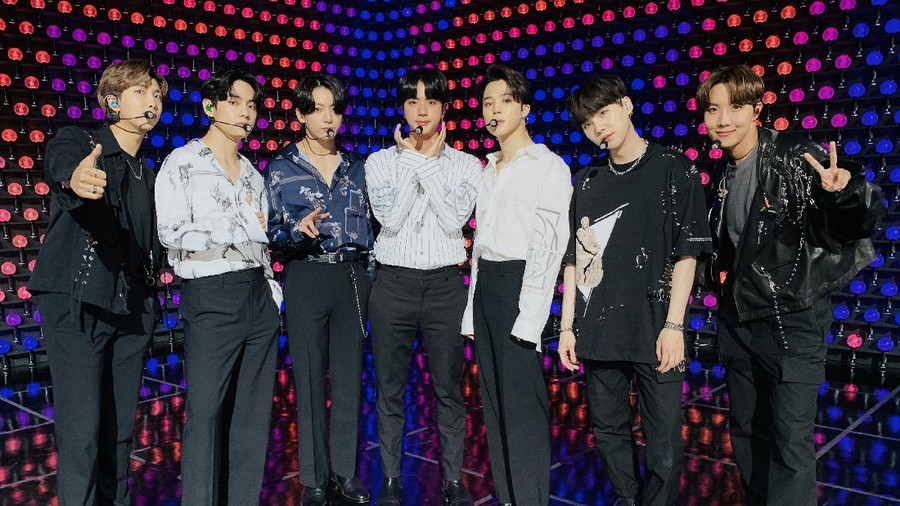 Jakarta, Insertlive
-
BTS baru saja merilis lagu bahasa Jepang mereka dengan tajuk Stay Gold.
Lagu ini menjadi salah satu lagu di dalam daftar album Map of the Soul: The Journey yang direncanakan rilis pada 14 Juli mendatang.
Stay Gold milik BTS ini juga menjadi soundtrack dalam drama Jepang yang bertajuk Spiral Labyrinth-DNA Science Investigation.
Insertizen penasaran dengan lirik lagu dan musik videonya? Yuk, cek di bawah ini!
Ooh ooh
In a world where you feel cold
You gotta stay gold
Oh baby
Yeah
miwaku tekina Moon Light
koyoi mo nemuranai
tsukiakari o tayori ni
kimi no moto e Hide and Seek
kokoro e to shinobikonde kimi no majika
chikazuku nosa itsunomanika
kegare o shiranaina
sono hitomi wa daiya
donna hoseki yori mo Beautiful
nan do mo midoreteshimau hodo
kimi kara me hanasenai No more
tokei no hari sae
ugoki o tomeruyo
Uh let it glow
Stay Gold
yume no naka demo
Stay Gold
sagashiateruyo
Stay Gold Gold
kimi ni retakute
Stay Gold
kimi no subete ni
Stay Gold
kokoro hikarete
Stay Gold
te ni iretakute
Stay Gold...
itsu made mo Forever Gold
ki zukarenai yō ni
chikazuiteku Slowly
yokoku suruyo Baby mu bōbina
kimi o yasashiku
itadaku nosa
kimi no fukai tokoro now ...
takanaru omoi wa
kodō o hayameru
Uh let it show
Stay Gold
kimi sae ireba
Stay Gold
nani mo iranai
Stay Gold Gold
dakishimetakute
Stay Gold
ai wa hatenaku
Stay Gold
hikari o hanatsu
Stay Gold
donna hoshi yori mo
Stay Gold...
itsu made mo Forever Gold
Just close your eyes
nani mo iwanai
I ' ll steal your heart
mahō no yō ni
kisekinara boku ga miseteageru ( yeah )
sono te o dashite
Stay Gold
yume no naka demo
Stay Gold
sagashiateruyo
Stay Gold Gold
kimi ni retakute
Stay Gold
kimi no subete ni
Stay Gold
kokoro hikarete
Stay Gold
te ni iretakute
nozoki mi suru Moon Light
koyoi nemurasenai
nigirishimeta sono te o
hanashitaku wa naiyo
Stay Gold
Uh yeah
(dis/dis)