Lirik Dionysus - BTS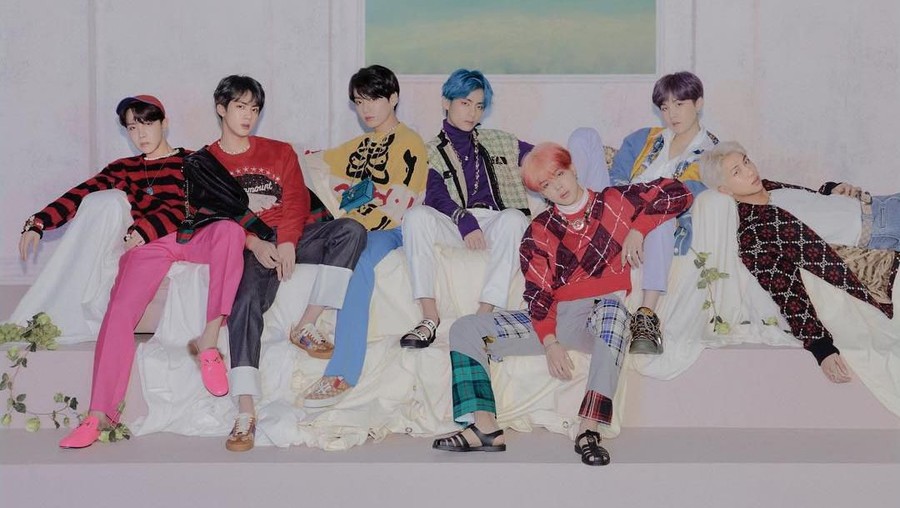 Jakarta, Insertlive
- Dionysus menjadi lagu ketujuh dalam album
BTS
 yang bertajuk,
Map of The Soul: Persona
yang rilis pada 12 April 2019 lalu. Lagu ini juga menjadi pembuka dalam tur konser mereka di Eropa,
Love Yourself: Speak Yourself.
 Tarian mereka terlihat cukup rumit dan membuat para penggemar
BTS
 terpukau.
Bagi
Insertizen
yang penasaran dengan liriknya, berikut
Insertlive
berikan spesial buat kamu!
Jjuk deurikyeoSuljan sippin' paljjang tippin'Han ipTireusoseu grippin' podo eatin'Jjuk deurikyeoBunwigi keep it D style rip itHan ipYeogi kill it let's steal itThe illestGeunyang chwihae machi dionisoseuHan sone suljanDareun sone deun tireusoseuTumyeonghan keuriseutal jan sokChallangineun yesulYesuldo suriji mwoMasimyeon chwihae foolYou dunno you dunnoYou dunno what to do withNaega boyeojulge nan jeonhyeo dareun geol chujinAibiwa geochin namuro doen micJeoldae dan han sume naoneunSori ttawin eopsdaHaega tteul ttaekkaji where the party atJami deul ttaekkaji where the party atSing it bulleo dasiDrink it masyeo dasiUrin du beon taeeonajiJjuk deurikyeoChangjagui gotongHan ipSidaeui hotongJjuk deurikyeoNawaui sotongHan ipOkay now I'm ready fo shoDa masyeo masyeo masyeo masyeo nae suljan ayDa ppajyeo ppajyeo ppajyeo michin yesulgaeHan jan one shot du jan two shotsYesure chwihae bulleo ongheyaDa masyeo masyeo masyeo masyeo nae suljan ayDa ppajyeo ppajyeo ppajyeo michin yesulgaeHan jan one shot du jan two shotsKkwaenggwari chimyeo bulleo ongheyaSuljan sippin' paljjang tippin'Tireusoseu grippin' podo eatin'Bunwigi keep it D style rip itYeogi kill it let's steal itThe illestNan jigeum sesangui mun ape isseoMudaee oreul ttae deullineun hwanhoseongCan't you see my stackedBroken thyrsusIje nan dasi taeeonane birosoWhen the night comesMumble mumble mumbleWhen the night comesTumble tumble tumbleStudioreul chaeun jeoeum jeoeum jeoeumBass drum goes like deomdeomdeomHaega tteul ttaekkaji where the party atJami deul ttaekkaji where the party atSing it bulleo dasiDrink it masyeo dasiUrin du beon taeeonajiJjuk deurikyeoChangjagui gotongHan ipSidaeui hotongJjuk deurikyeoNawaui sotongHan ipOkay now I'm ready fo shoDa masyeo masyeo masyeo masyeo nae suljan ayDa ppajyeo ppajyeo ppajyeo michin yesulgaeHan jan one shot du jan two shotsYesure chwihae bulleo ongheyaDa masyeo masyeo masyeo masyeo nae suljan ayDa ppajyeo ppajyeo ppajyeo michin yesulgaeHan jan one shot du jan two shotsKkwaenggwari chimyeo bulleo ongheyaUriga tteossda hamyeonJeonsegye eodideunji stadium party ayKpop aidollo taeeonaDasi hwansaenghan artistDasi hwansaenghan artistDasi hwansaenghan artistNaega aidorideun yesulgaideunMwoga jungyohae jjanhaeYesuldo i jeongdomyeonGwaeumiji gwaeum yeahSae girogeun jasingwaSsaumiji ssaum yeahChukbaereul deureoolligo one shotHeona nan yeojeonhi mokmallaWhatDa masyeo masyeo masyeo masyeo nae suljan ayDa ppajyeo ppajyeo ppajyeo michin yesulgaeHan jan one shot du jan two shotsYesure chwihae bulleo ongheyaDa masyeo masyeo masyeo masyeo nae suljan ayDa ppajyeo ppajyeo ppajyeo michin yesulgaeHan jan one shot du jan two shotsKkwaenggwari chimyeo bulleo ongheyaSuljan sippin' paljjang tippin'Tireusoseu grippin' podo eatin'Bunwigi keep it D style rip itYeogi kill it let's steal itThe illestSuljan sippin' paljjang tippin'Tireusoseu grippin' podo eatin'Bunwigi keep it D style rip itYeogi kill it let's steal itThe illest
(nap/fik)